I'll be the first to admit that New Year's resolutions are not always my favorite part of the holiday season.
Can you relate?
However, I have found that using my business as a way of designing a resolution or goal that is obtainable and measurable feels more natural. As we welcome in a new year and hopefully one that will be far more stable, I've decided to help all my beloved Sacramento landlords come up with some smart resolutions that will make this their best year yet.
I hope you share and enjoy!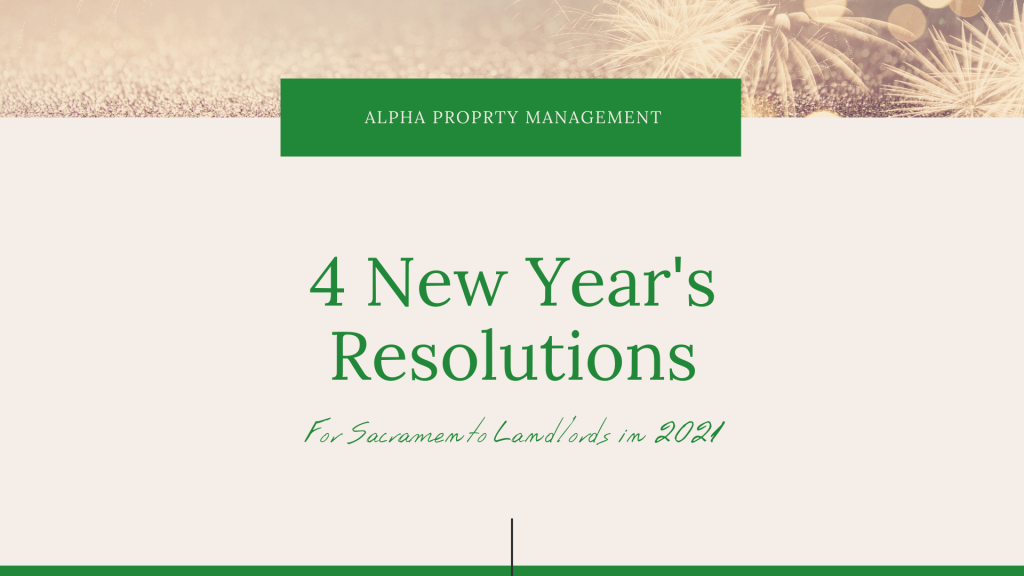 "I Will Never Get Caught Without Savings Again"
If you are one of the unfortunate many that had zero or not nearly enough savings in the bank to help you pay your mortgages and expenses when tenants couldn't afford to pay rent, then you know how painful of a mistake that is. So to ensure you're never caught with your financial pants around your ankles again it would be wise of you to start making your savings a priority. Remember that savings are not only there to help you when you hit hurdles but also to help you capitalize on potential opportunities that will require extra capital.
"I Will Generate More Diversity In My Rental Portfolio"
Whether you have one Sacramento rental or 20, you can never have enough diversity in your portfolio. If real estate investing is your full-time job then you are likely already focusing on adding more diversity to protect yourself. However, if you have been treating your investments as passive income, you could be neglecting this important component. Not only should you have rentals as well as investments in other markets, but you should have diversity in the types of rentals you own. For example, single-family homes, apartment buildings, duplexes, and condos.
"I Will Befriend Other Sacramento Landlords & Property Managers"
You know that old expression about how if you are the smartest person in the room you're in the wrong room? I urge you to apply that theory to your real estate investment business. It is important to network with other real estate investors, property managers, landlords and real estate professionals on at least a semi-regular basis. Not only will you make valuable connections that will help you but you can help others while learning how to be a better investor. It's a win, win, win!
"I Will Streamline At Least One Process Or System"
Your Sacramento real estate portfolio is your business and it should be treated as such. Of course, every business needs to have streamlined processes and systems in place to help it run more efficiently. However, many newbie real estate investors fail to implement systems in the beginning and then it simply never happens. If you haven't already begun implementing or streamlining systems for marketing, accounting, maintenance, legal, tenant screening and general operations, 2021 is the time to do so.
What Are Your Real Estate Investing Resolutions For 2021?
One of my favorite parts about being a Sacramento property manager and trusted expert is getting to share experiences and ideas with people like you! Please comment below and share some plans you have for your investment strategy for the new year or feel free to ask a question!