As the owner of an apartment complex, you're always worrying about what needs to be done to maintain full occupancy at the highest possible rent rate. However, if you were anything like most large scale landlords, you do not have a marketing degree or a comprehensive strategy on how you should market your property to achieve those goals. With each passing day technology drives and shifts the way in which Sacramento real estate is and needs to be marketed which only increases that challenge. But not to worry because we are here with six of our top tips for marketing your Sacramento apartment community in the modern age. Be sure to bookmark, save, and share this one so you can refer back to it later.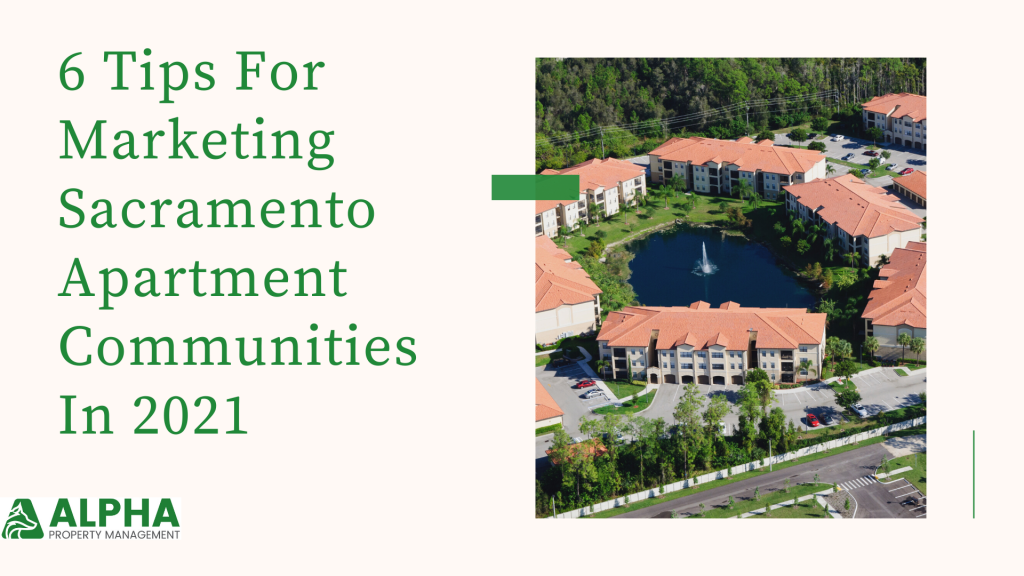 1. Get Serious About Your Digital Marketing & Social Media
It may sound strange, but the truth is that you should absolutely have a strong web presence for your apartment community in this day and age. Not only do you need to have a sophisticated and professional website that attracts potential new tenants but you need to have a social media presence that facilitates a positive brand and sense of community for current and prospective tenants. At a basic level, you should have a Facebook page for your apartment community in which you can share updates, events, and promotions. You may also want to consider starting a Facebook group in which your tenants can more readily interact with each other as neighbors and with you as a landlord to facilitate a lower turnover rate.
2. Offer Incentives To Tenants For Referrals
If you're eager to fill some empty units as fast as possible, you may want to consider offering an incentive to your current tenants to refer new ones to your building. This doesn't have to be anything crazy or overly generous but offering a financial incentive of some kind may be just the inspiration or motivation your tenants need to persuade friends, family, and colleagues. Even if you aren't desperate to attract hordes of new tenants right now, you may wanna consider offering an incentive to attract new prospects to your waiting list. Having a strong waiting list is going to provide you with much higher occupancy rates, higher rent rates, and peace of mind.
3. Plan Seasonal Promotions Ahead Of Time
Each year when you sit down to plan or review your annual business plan you should be including your marketing strategy as part of your considerations. If you haven't already, take some time to sit down and create some seasonal promotions that you can run throughout the year. Having these seasonal promotions scheduled and planned out ahead of time will not only help ensure they're actually executed but also increase their success rate. If you have run seasonal promotions in the past, you should be able to look back and see how they performed so that you can tweak and adjust them as needed.
4. Hire The Pros To Tackle The Content
When it comes to the marketing content that you need for your apartment complex, you should really invest in hiring a professional. Everything from the listing descriptions of each unit to the marketing materials and even newsletter should be trusted in the hands of a professional real estate writer. They can make the difference between content that simply sits somewhere and content that converts for you.
5. Host Events To Promote The Property
Another fabulous idea that can help attract new tenants while also securing the loyalty of your current tenants is to host fun and family friendly events. This is particularly useful around the holidays. Make sure that when you host tenant recruiting events or even tenant appreciation events like this that you let everyone know they are welcome to invite friends and family. The more people you get on the property seeing and appreciating how wonderful it is the faster your waiting list will grow and the higher your revenue will rise.
Also be sure to leverage your website, newsletter, and social media to promote each event and increase your results. You should even take pictures and videos during your events to use as additional content for your social media and general marketing.
6. Start Networking Strategically
One of the best investments you can make in yourself as a real estate investor and your portfolio is to begin networking strategically. It never hurts to associate yourself with others of like mind, interests and goals and to bounce ideas off of one another. You can also gain valuable referral partners, add new trusted vendors to your list, and maybe even find your next investment property. Far too many investors neglect the networking side of the business and lose out because of it. Don't let yourself be one of those unfortunate investors!
Want All Of Your Empty Units Filled With Quality Tenants Within 30 Days?
That is the promise we strive to achieve for every single owner here at Alpha Property Management. But first, we need to get to know you and your property to formulate a comprehensive strategy that makes sense for your goals. So give us a call today and allow us to show you how we can transform you into the Alpha real estate investor of the Sacramento real estate market.