One of the best ways to empower your financial future and diversify your finances is to begin investing in rental properties in a fantastic market like Sacramento. However, if you don't treat your investment portfolio like a business it could become one your biggest financial mistakes. The first step in treating your portfolio like a business is to write a business plan.
If you have never written a business plan or have yet to write one for your real estate investments, the idea might be a bit intimidating. Not to worry, because your friends here at Alpha Property Management have got you covered!
In essence, a rental property will accomplish three major goals:
Describe your rental business
Set your intentions and goals for each property & your portfolio as a whole
How you plan to execute each goal
But to ensure you execute this important step properly, let's dive a bit deeper into how you can accomplish each of these goals effectively in writing your first investment property business plan.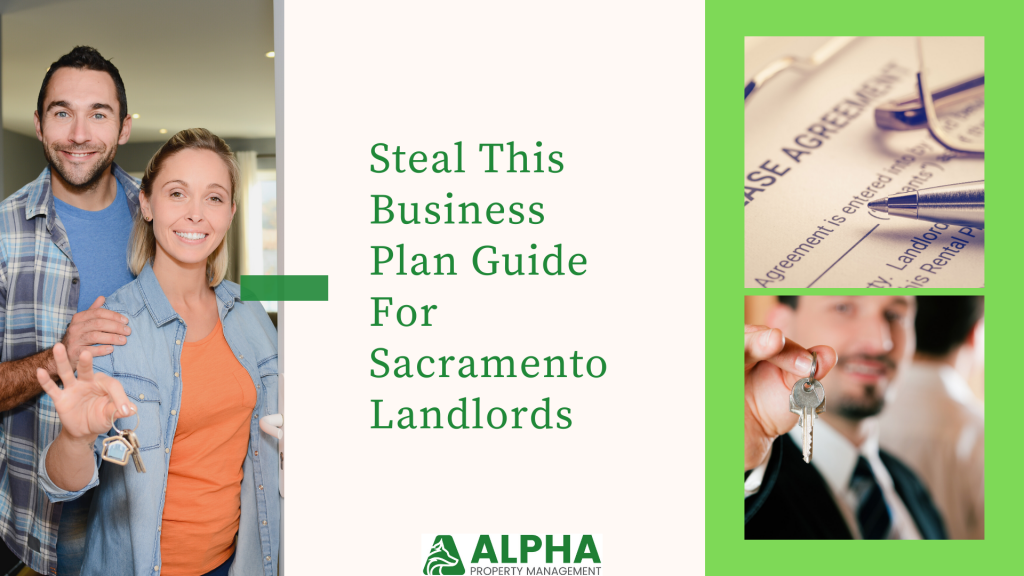 Key Components Of A Successful Sacramento Rental Property Business Plan
The Executive Summary – The beginning of your business plan is the executive summary which describes who you are, who you will include in your team, your overall financial situation, the property itself and the surrounding market, how you will market the property and how you will maintain it for profit.
A Description Of Your Business – This section will name all of the parties involved in your business (even if it is just you) and what roles each person will have. Furthermore, it outlines all of the legal components such as what structure you will have (LLC, Sole Proprietorship, Partnership, etc.).
Your Business Model – Next, you need to qualitatively describe how you plan to profit from this investment. Obviously, rent will be the primary source of revenue but don't forget to factor in costs and other revenue streams such as application fees, late fees, deposits, cleaning and damage charges, and any other services charges.
Current Sacramento Market Analysis – This section will be the most time-consuming and work-intensive. You need to conduct extensive research to not only analyse the state of the current market but predict how it will change and impact your property over the next decade. Trends are very important and can change extremely quickly as many discovered in 2008, so don't skimp on this because it will cost you down the line.
Marketing – The marketing section of your plan needs to be detailed in outlining your value proposition, branding, strategy for tenant acquisition, competition and strategies for combating competition, what marketing tools you will use and communications.
Financial Plan – Be clear and honest in outlining your current financial situation, your projections for the financials, and your exit strategy should you have one. Some real estate investors plan to hold onto their properties through death to pass them on to loved ones, and if that is the case you should include this as part of your exit strategy.
Establish Your Guiding Principles & Core Values
Even if you don't have sky high hopes and dreams for your portfolio you need to take the time to write out what your guiding principles and values will be in your operations as a landlord and the owner of the portfolio (no matter how small). For example, will you be committed to providing the highest quality customer service? Or would expanding your business ring more true to your overall goals? It is important to write it out and maintain self awareness of these values and guiding principles throughout your career as an investor.
Set Strategic Objectives
Be sure that when you are outlining goals for yourself with this business that you are being realistic. The more you set unrealistic goals for yourself and your portfolio the harder you will have to work to accomplish those that are attainable and the more it will take you to reach success. Don't set yourself up for failures, this is a tool to aid your success!
Go Into Detail About How You Will Accomplish Each Goal
Finally, take the time to be as detailed as possible in outlining exactly how you plan to achieve each goal that you set for your business. Having a clearcut and easy-to-follow plan on what you need to do and in what order will be invaluable in setting you apart from the average investor from the ultra-successful.