As a real estate investor it is important to have a clear understanding of your investment portfolio and the role that it plays in your overall financial profile. The truth is that whether you invest in real estate part time or you're a full-time landlord, there is a lot you need to know and manage in terms of your financial planning to protect yourself. I know the idea of financial planning can be overwhelming for a busy Sacramento landlord like yourself! So in an effort to make your life easier I'm breaking down each angle of your overall financial picture so that you can put an effective plan into place.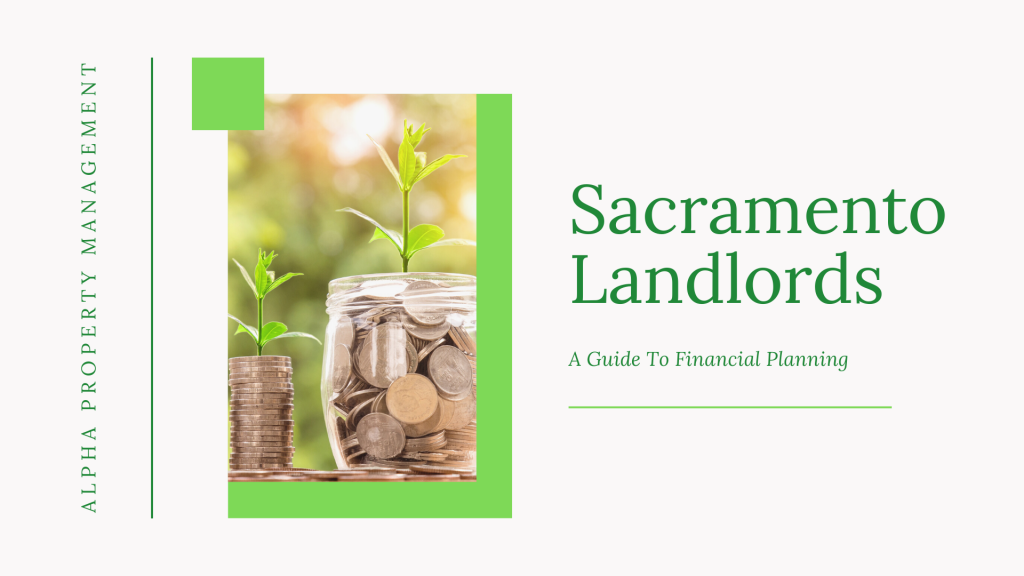 Investment Diversification
Because of the volatility and knowledge barrier that surrounds the stock market, it is not uncommon for real estate to be the first major investment that people make. However, it is not in your best interest to solely focus your investment dollars in the real estate industry. As we have all seen time and time again, the real estate market just like other markets is subject to economic conditions that can cause it to have dramatic and often devastating swings. Therefore, if all of your money is tied up in real estate investments, you should seek guidance on how to diversify using stocks and bonds, commodities, and other markets that operate in balance with that of real estate when the economy has major shifts.
Rental Property Diversification
Speaking of diversification, it's also unwise of you to focus all of your real estate investing funds in one type of property (or properties) in one particular area. This style of investing will leave you far too vulnerable to market shifts. For this reason, you need to have a mixture of single-family versus multi-family properties, as well as, properties in various different markets that thrive under different conditions. By diversifying in this way, you will be protected because when some of your properties begin to lose value, the others will inherently gain value, which will help to hedge against financial risk.
Tax Planning
There is no getting around the fact that tax planning is a vital part of being a successful real estate investor. The tax implications of regularly buying, selling, and renting properties are severe and significant. However, if you implement the proper planning around your taxes, the costs can be dramatically reduced. If you haven't already, you need to become fluent (or at least hire someone that is) on the following tax topics:
Charitable remainder trust
Upstream gifting
Holding until death for step-up in basis
Taking advantage of low tax brackets (10% and 15% brackets)
Donating appreciated assets
Donor-advised fund or foundation
1031 exchanges
Installment sales
Monetized installment sales
Qualified opportunity zone funds
Deferred sales trust
Using outside tax loss-harvesting losses
Retirement Planning
The day will come at some point when you need to or want to retire. As a real estate investor, you have far more options available to you to plan for your retirement. Not to mention, you can and should be leveraging your real estate portfolio to empower your retirement as well. If you haven't yet begun to, you need to start considering the following options for your retirement. Remember, the sooner you start planning the better your golden years will be!
IRA's/Roth IRA's
401(k) profit sharing plans
Safe Harbor 401(k) profit sharing plans
Non-qualified deferred compensation plans
SIMPLE IRA
Solo 401(k) or SEP for owner-only firms
Personal defined benefit plans
Need Help Managing Your Sacramento Real Estate Portfolio Like A Business?
Although it may have just started as a fun way to pad your pockets with a bit of extra cash, the truth is that you need to take your real estate portfolio very seriously. In fact, you need to treat it as if it's a business of which you are the CEO. It's not always easy to manage a real estate portfolio in this way so if you do not feel completely confident that you are maximizing your growth potential on your own, you should seriously consider investing in a property manager that can. We would love to get to know you and your portfolio and share our strategy to turn you into the next Alpha real estate investor!