Making environmentally conscious improvements to your multifamily properties doesn't just put a ton of cash back into your own pocket, it can help make your apartments far more affordable for working families. Not to mention, they can dramatically reduce your carbon footprint and that of all of your tenants. However, it can be hard to know where to start when it comes to making strategic green improvements to a multi-family property in Sacramento. Not to worry because as usual your friends here at Alpha Property Management have got you covered!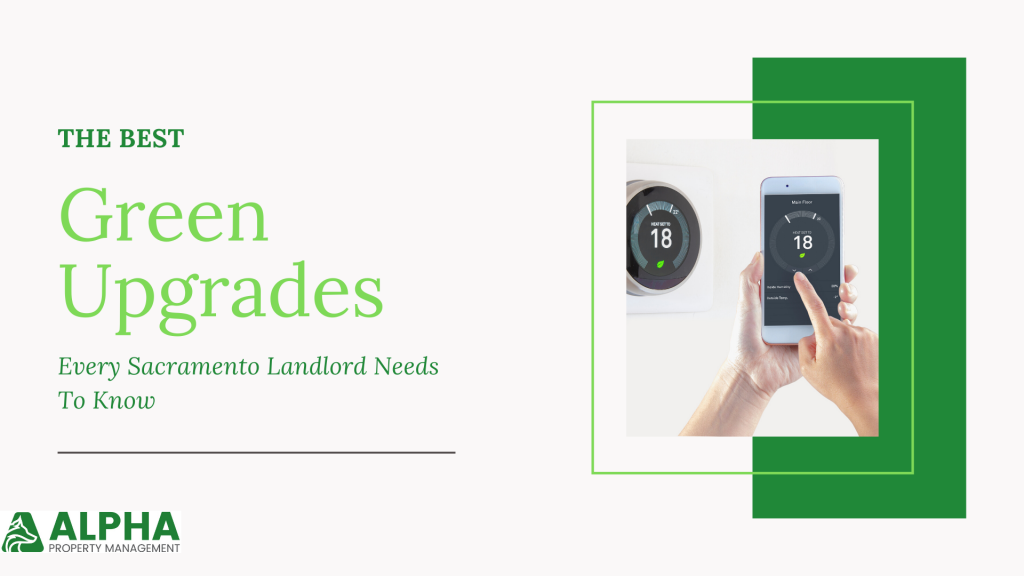 The Older The Property The More Upgrades You May Need
The older your investment property is or the longer it has been since it has seen any modern updates, the more likely you're going to have to dump a larger sum of money into the property to get it green. However, on the flipside of that coin, you're also far more likely to see a dramatic change in your carrying costs. Not to mention, every penny that you invest into updating your property to make it more energy efficient can be written off of your taxes at the end of the year. Therefore, if your property is at least 30 to 40 years old and it has been a while since any significant upgrades have been made, you need to prepare yourself to invest a greater amount of money to make these improvements but remember that it will really pay off in the long run.
Upgrade & Service Those Major Appliances
You would be surprised at the amazing deals that you can score on energy efficient appliance packages these days. Of course, there are always periods of even bigger sales throughout the year which she should keep your eyes peeled for but in general you can even get quality energy efficient appliances in used appliance stores now. For this minimal investment, you can significantly cut down on water and electric costs incurred by either you or your tenants. Additionally, you should invest in regularly servicing appliances such as your furnace or water heater to ensure that they are operating properly and not costing you far more than they need to. A little tuneup can really go a long way for your bottom line.
Smart Or Programmable Thermostats
Smart thermostats have become extremely popular among home honors these days. Not only do they have that "cool" factor but they can also help to save property owners a great deal of cash. You certainly don't need to feel obligated to spring for something as fancy as a smart thermostat but even a programmable thermostat can save you or your tenants hundreds of dollars in energy costs over the terms of a single lease. Again, don't be afraid to scour the Internet for some deals or wait until something like a Cyber Monday sale to purchase these upgrades and always remember to save those receipts for tax time!
Motion Sensors For Common Area Lighting
If you have multi family properties, college housing, or large apartment buildings, you likely also have plenty of common areas like hallways, stairways, and laundry rooms. As the property owner, you're obviously responsible for paying for the energy of all of these areas. Installing motion sensors to the lighting in these areas is a simple and effective way to help trim your energy costs throughout the year.
Get Help Going Green With Your Sacramento Investment Properties
Are you in search of a property manager that can review each of your Sacramento properties and help you to not only make them greener but more profitable and efficient overall? If so, then we would love to hear from you! Please reach out to your friends here at Alpha Property Management either by phone or email and let's discover how we can help you become the next Alpha real estate investor.