If you are either new to investing in Sacramento real estate, investing in multi-family properties, or investing in real estate at all, you may be feeling a bit apprehensive about what the future holds for this new venture. That's totally normal but your fears and nerves should not hold you back from investing in Sacramento multi-family properties because it can be one of the best financial decisions you ever make! The trick to calming some of those nerves is to become better educated on the initial stages of the process and what you can expect. We hope that this edition of the Alpha Property Management blog will empower you in exactly that way!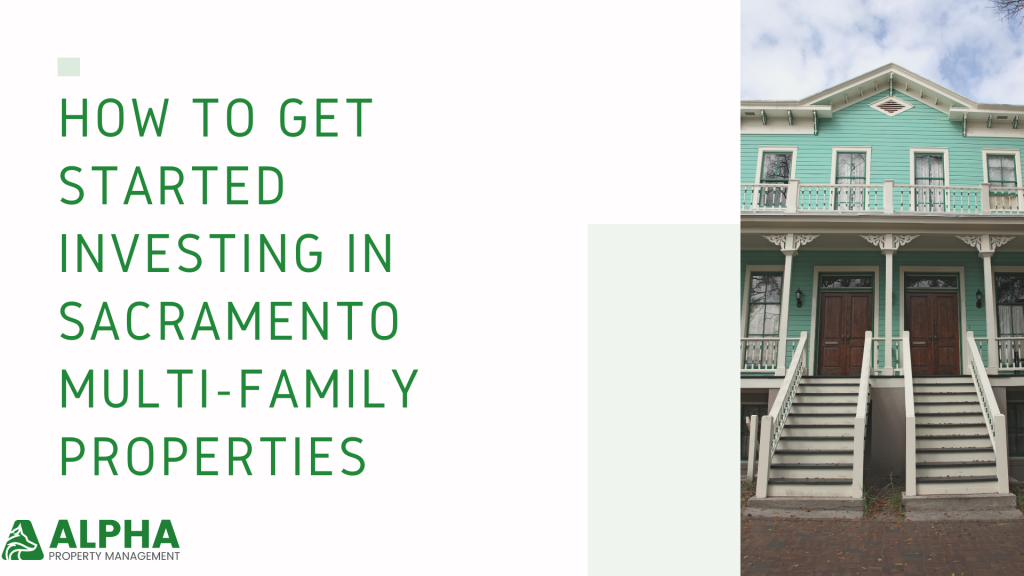 Decide How You Will Finance Purchase & Operations
Before you even begin looking at potential properties to invest in in Sacramento or anywhere for that matter, you need to get your financial qualifications in order. Not only do you need to find out how much of a loan you can qualify for if you plan on obtaining one but you need to know how much operating capital you have to work with and what kind of financial cushion you have as well. There are many surprises that can come up during a major real estate transaction like this so it's important that you don't bite off more than you can chew financially. Once you know exactly how much you can't afford to invest, it will significantly narrow down your options and get you a major step closer to your first multi-family investment property.
Write A Business Plan For Your Portfolio
Whether this is your first investment property or your 100th, you need to have a business plan in place for how you will operate your portfolio and handle each property on an individual basis. At the end of the day, this investment is and needs to be treated like a business and that begins with a proper business plan. If you would like some help in writing an investment property business plan simply referred to this guide from our archives.
Do Your Research Before You Buy
Investing in a multi family property is very different then a traditional real estate transaction in which she would be buying a home for yourself. There are a lot of different numbers and metrics involved such as the local market economics and what it will take to stabilize the rent and property values. It is extremely risky and ill-advised to ever put in an offer on a multi family investment property without knowing all of the numbers for your potential loss and gain. This is why it is so important to work with a real estate professional that is extremely experienced in the sale and purchase of multi family investment properties because they can guide you through crunching and understanding all of these numbers before strategizing on an offer.
Get Help From An Expert To Maximize Your ROI
Once you have acquired a multi-family investment property your journey has just begun. Now you have to get to work on all of the aspects of managing a multi-family property such as accounting, maintenance, renovations, rent collection, tenant acquisition, etc. If you aren't careful, it can be very easy for a big moneymaker to turn into a big money pit. That is why most new multi-family Real estate investors turn to a professional property manager for help. If you would like to learn more about how Alpha Property Management can protect and optimize your Sacramento multi family property give us a call today.