If there is anything that can drive a landlord crazy and cost them a fortune while significantly cutting into their free time it's tenant turnover. In fact, your rate of tenant turnover is going to have a very direct correlation to how successful you are as a real estate investor overall. We know that it can be really tough to get out of a bad tenant turnover slump or to figure out how to find those dream tenants for the first time! Since the name of our game at Alpha Property Management is to help you crush it with your portfolio and enjoy being a landlord, we've assembled some top tips to help you find and keep those lucrative long term tenants you deserve.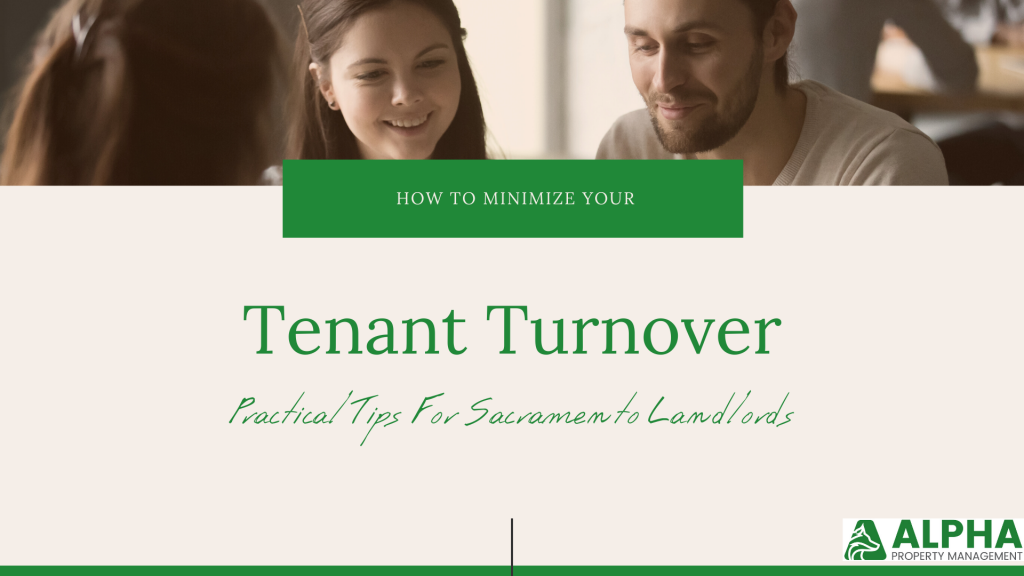 Get More Selective In Your Tenant Screening Process
When a Sacramento landlord tells us that they have been struggling with high tenant turnover, the first potential problem that comes to mind is your current tenant screening process. If you are anything like most newbie real estate investors, you may be afraid to impose overly high restrictions because you're eager to get your first tenants in the door. Although this can work out well in some cases it often ends in disaster. here is a list of requirements you should implement that are both fair and proactive in improving your turnover rates:
A comprehensive background and criminal check
A rental history check to flush out past evictions
A credit check
Employment and income verification
At least three references that you can verify
First months rent, last month's rent and a security deposit
Start Off On A Friendly Foot
Being overly firm or formal with your new tenants can potentially get your relationship off to a poor start. Although this is a business relationship, it is important that your tenants also feel comfortable and confident in communicating with you should they have concerns about the rental or need to speak with you for any reason. You do not want to come off as overly intimidating or possessive because the more that your tenants feel at home in the unit the longer they are likely to stay.
Be Clear In Your Expectations & Intentions
One of the biggest problems that can arise in a tenant and landlord relationship is a misunderstanding about what is expected and intended among each party. For this reason, we strongly suggest that either you or your property manager thoroughly cover each and every term of the lease agreement. Although a lease agreement is of course legally binding and in place to protect you both, the truth is that many tenants will simply neglect to read the contents of that agreement. Therefore, if you go over the agreement line by line together, it gives you both the opportunity to hash out any misunderstandings upfront so that you can proceed in true agreement.
Offer Benefits For Loyal Tenants
In some cases and various markets, it can also be beneficial to you as a landlord to offer incentives for tenants to stay in place and renew their lease for a longer term. In fact, it is not uncommon for landlords to offer a structured discount based on the length of a lease renewal. You may also want to consider offering incentives for tenants to refer new tenants to you which will further instill their loyalty. The more gratitude that you show to have your tenants in place, the more likely they are to stay, look after your property, and continue paying rent on time.
Need Help Finding Loyal Tenants For Your Sacramento Properties?
We get it; it can be very challenging to sort through the massive pools of potential tenants in order to find the best ones for your unit. Just because there may be a flood of truly qualified tenants out there does not mean that the process of selecting the right ones and avoiding scammers is easy. This is one of the primary reasons why Sacramento landlords struggling with the intensive screening process realize that it's necessary to turn to professionals like Alpha Property Management to secure the best possible tenants. If you would like to learn more about how we can do this for you or learn more about our guarantee to get your unit rented in a month or less, please reach out to us!