Deciding to begin investing in real estate is one of the best decisions you can ever make. Especially, if you decide to include Sacramento multi-family properties in your overall investment strategy. But it has to be said that there are both pros and cons to investing in a mulit-family property of a single-family and it is imperative that you understand them all before deciding to pull the trigger. In this newest Alpha Property Management guide, you will learn the best and worst of what you can expect from investing in multi-family properties in Sacramento.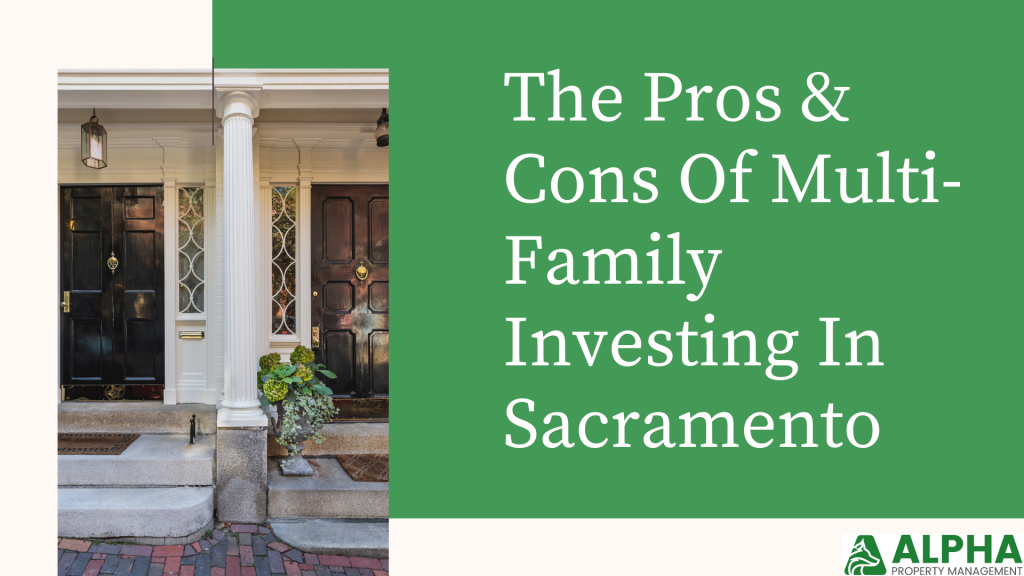 Higher Cash Flow & Higher Initial Costs
Before you even begin scratching your head about whether it would be wiser for you to invest him in a multi family Sacramento property versus a single-family property right now you need to make sure that you can actually afford to both acquire and maintain a multi family property. Obviously, it will usually cost you far more as an initial investment to purchase a multi family property but it will likely also come with higher carrying costs. It's important that you have a realistic awareness about whether or not this is something that your financial portfolio will benefit from at this point.
If you already know that both are a viable financial investment for you, you need to weigh the initial investment cost versus the potential cash flow against your overall goals. Are you looking to scoop up a high cash flow property for a few years and then sell it for profit? Or is this intended to be at a much longer term investment for you? It's important that you clearly understand what you are actually hoping to accomplish with this acquisition so you can measure the cost vs. cash flow on both types of properties.
Fewer Loans Looming Over Your Head
One advantage to investing in multi family properties is that it does allow you to acquire more units or doors under a fewer number of loans. Many people can become overwhelmed with maintaining a handful of different mortgages and carrying costs. If that sounds like you, you may be better off investing in multi family properties that will be covered under a single loan so that you can stay on top of your finances better. Again, this will come down to honest self-awareness.
You Can Live On The Property To Save Money
Another potential benefit to investing in a multi family property versus a single-family property is that you have the ability to live directly on that property yourself. Not only will this reduce your own expenses, but it affords you the ability to look after the property better. Not to mention, tenants that have an on-site landlord are far more likely to be respectful of both you and the property itself saving you a potential fortune in damage costs.
More To Manage
Although size will obviously play a factor, you will generally have far more headaches and responsibilities as the owner of a multi family property versus a single-family property. Not only will you likely have several different tenants to manage and maintain, but there are more variables at play. Plus, you're likely instore for more maintenance than a single-family property. If you plan on hiring a property manager to tackle all of that for you, then the amount of time and money to maintain a multi family property may not be a concern. However, if you are determined to be a hands-on landlord and do everything yourself you should be completely honest with yourself about whether or not you're willing to take on that much more responsibility right now.
Are You Ready To Invest In A Sacramento Multi-Family Property?
If you are confident that you're ready to invest in a multi family property in Sacramento we would love to talk to you. Not only can we show you various ways in which you can leverage this new investment to empower your overall financial future but we can show you how we can alleviate the majority of the stress and financial burden of managing a property of this size on a daily basis. Simply give us a call or shoot us an email and before you know it you will be the newest Alpha investor in the Sacramento market.