Ever since the real estate market crashed back in 2008, flipping houses for profit has been all the rage. People hoping to turn a quick profit love the idea of being able to purchase a depressed property, fix it up, and sell it as fast as possible. However, the truth is that the majority of money to be made is in the long-term strategy of buying and holding properties which not only appreciate overtime but allow you to collect cash in the short term. In fact, buy-and-hold properties can be so profitable that they can fund your entire retirement. In this edition of the Alpha property management blog, we are going to show you what you need to know in order to use Sacramento real estate investment properties to find your retirement much faster than you ever thought possible.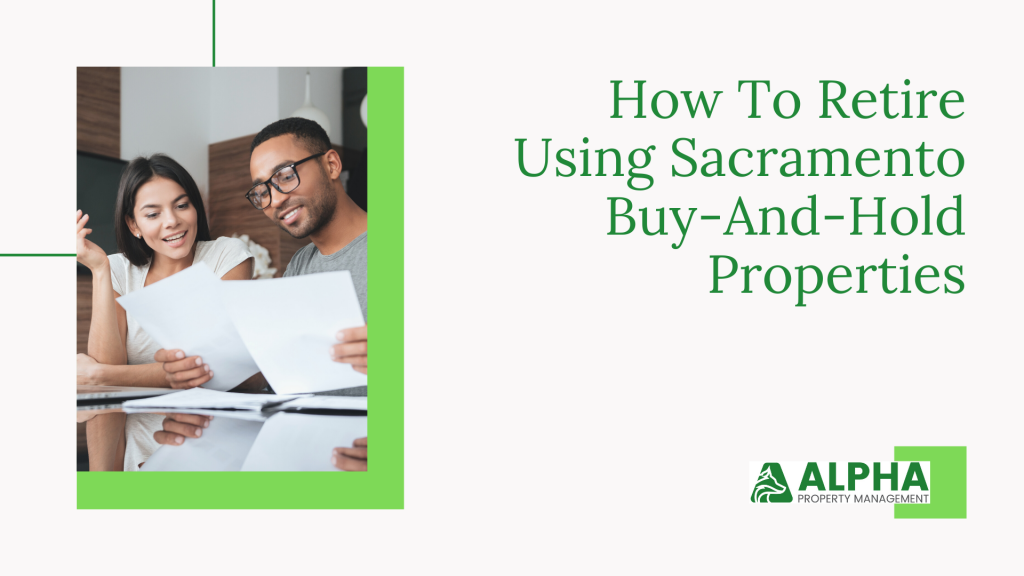 Why Sacramento Rentals Are Such A Strong Investment
The first thing that you need to understand about real estate investing is that it's very relative to the local market conditions. The beauty of investing in Sacramento real estate is that the market is not only currently strong, but the projections for the next decade indicate that it will continue to grow stronger. In fact, Sacramento is one of the top two metro areas in the entire state of California that people are flocking to, driving a steady increase in property values. With the local economy and job markets also strong, there is a great deal of money to be made on rentals as well. When you find a perfect storm like that it's your signal to get excited to invest.
How Much Can You Make From Investing In Rental Properties?
The profitability of a long term investment like a buy-and-hold property in Sacramento will depend on a number of factors. Obviously, you can expect that the property will appreciate over time. However, the likelihood that it'll result in profits or losses in the short term depends on factors like:
the local economy
property taxes
the amount of work that the property needs to be brought up to code for rent
how much rent you can realistically collect.
This is why it is so important that you conduct the proper research on a potential investment property prior to putting in an offer on it. You should know the exact metrics of how much revenue any given property can bring in, how much appreciation you can expect out of it in the next 30 years, and what it will cost you to acquire and maintain.
Learn The Tax Implications Inside & Out
Buying, selling, and renting out real estate has far more tax implications then your traditional straight forward purchase of a personal home. Not knowing what those tax implications are and how to navigate around them can make or break your bottom line as a real estate investor. You either need to educate yourself or hire someone with the knowledge and experience to protect you from overpaying on each transaction and leveraging your assets for for
The Benefits Of Using A Property Manager To Support Your Retirement Real Estate Portfolio
Let's be honest, anybody with the financial means can invest in rental properties. However, the difference between a truly successful real estate investor and someone that just purchases a property is having the professional expertise on your side to treat it like an actual business. Hiring a property manager to not only protect you and your property but to help you grow your portfolio into something you can retire off of should be the ultimate goal. If you would like to know how we can help you do just that give us a call today!